The beginning of a new school year can be a difficult time for some children with autism. Shifting from the comfort of home to an environment packed with loud voices, stiff chairs, slamming doors, and a new structure can trigger anything from distraction and discomfort to full meltdowns.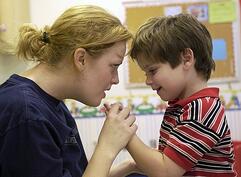 Your child's IEP should have accommodations to make their classroom a positive environment and remove any barriers to learning. But sometimes, parents may see accommodations written vaguely. "Frequent breaks" doesn't answer important questions – how frequently? How long? And most importantly, what will the break look like? Each accommodation requires specific planning, and often specific materials.
In my experience as a special education teacher, my students who had autism needed an adaptive classroom environment and supportive materials the most. But for many special education teachers, getting the right materials in the general classroom can be a difficult process. Funding is limited, and ordering extra materials can take over a month. Some classroom teachers are resistant to environmental changes. And some tools are just not good. Constantly trying and discarding different activities, sensory tools, and trackers will not only fail to meet a child's needs, but more than likely backfire and overwhelm them.
For parents who want their child with autism to hit the ground running this school year, investing in the right accommodation products is a great option. Or instead, parents may want to be prepared with a list of materials for the school to implement accommodations quickly.
I used and recommend these ten products because they are simple, can be used independently, and blend into the classroom environment without disruption. Happy shopping!
These are the products I found most useful in the classroom, but every child with autism is unique. You know your own child best and can help your child's teacher be figuring out what supports might work best in the classroom. Stages Learning Materials has assembled a carefully selected collection of supportive resources from different companies and you may see additional products there that may be useful.