Recognizing and understanding emotions is a key part of development. Emotional awareness allows individuals to identify what they are feeling and why. This is a critical step towards building emotional intelligence, a key skill in life. Being able to identify our emotions and understand why we are feeling the way we are allows us to clearly communicate and helps us build relationships with other, thus supporting our social development.
Children with autism often have difficulty with their social development. While this can manifest itself in varying ways, it typically impacts their ability to adequately understand and recognize emotions. Often times, children with autism find it challenging to be able to recognize certain facial expressions and understand what emotions they represent, utilize emotional expressions, understand and control their own emotions, and understand and interpret the emotions of others, thereby impacting their ability to demonstrate empathy1.
If you are a teacher or parent struggling with supporting the emotional awareness of your child with autism, consider engaging your child in various games and activities. The games and activities below are sure to support your child with autism as they develop emotionally:
Emotions Card Games
Playing an introductory card game to practice the skills of matching emotions can increase student engagement and facilitate whole child development. This game can be adjusted in level of difficulty based on the total number of cards and number of different emotion cards used. In this game, using the ARIS Language Builder Emotion cards, the adult would start with two contrasting emotions such as 'happy' and 'sad.' The adult would flip one of the cards face down and ask the student to guess which emotion. The student would then flip the card over and would be able to keep the card if they guessed the correct emotion. As a reward, the adult could make an exaggerated face to match the emotion they guessed correctly and ask the student to show you their version of the emotion as well.
Use puppets!
Many students with autism may respond better to puppets as an introductory tool to support their emotional awareness. Research by Wheater (see below) suggests that puppets are a tool that can be less overwhelming for children, especially children with autism as it allows them to have a "safe method through which they might express the thoughts and emotions of another being." Puppetry is also seen as an art therapy technique and can be a channel through which children with autism form connections with others. Utilizing puppets to promote discussion of various emotions can be a helpful resource to support your child with autism. Have the puppet tell a story to the child, and then have the puppet say "And this made me sad" or "This made me happy" and have the puppet act according to the emotion described (i.e. shoulders collapsing so show sadness or jumping up and down to demonstrate happiness).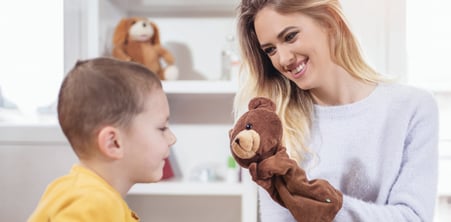 Four Corners
Another fun game to support the emotional development of children with autism is Four Corners. This variation of the Four Corners game includes the ARIS Language Builder Emotion Cards. The adult would have large images of four of the five basic emotions posted in a corner of each room. The child would stand in the middle of the room, and the adult would state a scenario such as "A girl lost her favorite toy." The child would decide which emotion is reflected in the scenario, and then run to the corresponding corner. The adult and child would then discuss the scenario and emotion after each round. To increase competition, include more children and see who can get to the correct emotion corner the fastest!
Create an Emotion Color Wheel
Creating a color wheel can be a great tool for emotional regulation. Essentially, the color wheel is a visual self-monitoring system to assist children with autism in monitoring a specific emotion that they may otherwise have difficulty communicating (See Warner below). Various primary colors can be aligned with the five basic emotions. For example, the color 'red' may correspond with 'anger'. As adults implement this color wheel with children with autism, they would want to be sure to teach their child how to use it, while also monitoring the child's use of the wheel. This color wheel can be anywhere that is physically accessible to the child such as on their desk at school, or on the refrigerator at home.
As adults seek to support their child with autism's emotional awareness, keep in mind these three tips:
Start with the five basic emotions
While there are many different emotions that children will eventually learn as they grow in their emotional awareness, starting with the five basic emotions of happy, sad, angry, disgusted, and surprised. Psychologists and photographers agree that these five emotions are the only ones that people can consistently recognize from the face only. The other emotions require more body language or context clues. Thus, for children with autism, focusing on these five basic emotions is an introductory skill that will not only allow them to generalize these emotions across various people and photographs, but also prepare them to recognize more complex emotions.
Reinforce appropriately
Just like most children, children with autism require appropriate reinforcement when learning a new skill. As you are supporting their emotional awareness, be sure to reinforce and correct the student as appropriate.
Utilize ARIS lessons to assist!
The Academic Readiness Intervention System (ARIS) is the most complete, early autism education curriculum. Based on the Language Builder Picture Cards, ARIS includes detailed lesson plans, scope and sequences, realistic wooden and plastic figurines, wooden blocks, data keeping sheets, home communication sheets, and more to support children with autism. One of the ARIS lessons focuses on teaching the five basic emotions: happy, sad, angry, disgusted, and surprised.
Whether you are a teacher, parent, or any adult who supports a child with autism, this lesson on teaching the five basic emotions can be a great tool to use to support our children with autism. In this lesson, the teacher would utilize the Basic Emotion Cards from the LB3 Language Builder: Emotion Cards Box. The teacher would sit across from the student, gain the student's attention, and then place one of the cards from the 5 Basic Emotions Series in front of the student. Then, the teacher would hand the student a corresponding emotion card and ask them to match the cards. The teacher might give directions such as, "Match Happy," "Put with Same," or "Put Happy with Happy." Once the student matches the emotion cards correctly, the teacher would reinforce or correct the student as appropriate.
With these activities and tips, supporting the emotional awareness of your child with autism can seem less daunting and much more fun and engaging, and will certainly contribute to a positive trajectory of emotional awareness for children with autism.
References
Warner, Jenna N.H., "The Color Wheel for Emotional Regulation" (2013). US Office of
Education Personnel Preparation Project: H325K120306. University of Utah, Department
of Educational Psychology.
Wheater, Courtney, "Theatre Therapy for Children with Autism" (2013). Education Masters.
Paper 265.
1 https://raisingchildren.net.au/autism/development/social-emotional-development/emotional-development-asd