Certain apps are targeted to meet the needs and support ASD individuals. Children in this generation have grown up with iPad's and tablets. They're able to navigate the devices and often have favorite apps. Many families and schools will use apps to supplement learning. Children similarly enjoy using apps for recreational purposes. Many neurodivergent individuals learn best through visual or auditory stimulation. Apps on tablets can be engaging to all learners and have been created with flexibility in mind to meet the specific needs of each learner.
The following is a list of my favorite apps for children on the spectrum. The apps I suggest below are categorized by the skills they target.
Communication
Children with autism often struggle to communicate. Whether they have limited expressive language or require some assistance forming sentences, these apps can help to facilitate communication for those individuals.
This app is my favorite communication app. I've seen this program give children who didn't have a voice the opportunity to express themselves clearly. Proloquo2Go has been a popular communication app for years, and it has positive testimonials from both families and educators alike. Proloquo2Go is a commonly used app for Augmentative and Alternative Communication, System (AAC) users. Unfortunately, the app has a hefty price tag ($249.99), but I feel the price is worth the value that this app provides.
I like this app for students with Autism and especially for students with Apraxia. Speech Blubs uses video modeling to stimulate correct speech development. My favorite part of this app is the early sounds section. It's very straightforward and allows kids to watch other kids model the sounds as well.
This communication app can be used on an AAC device, and a remarkable feature of the app is that you can print out visuals. It seems to be very versatile. It was created by a special education teacher as an all purposes communication app.
This is another common communication app I've seen and used frequently in my classroom. This is a favorite of speech therapists, families, and teachers. Therapists often suggest this app or Proloquo2Go for their learners. It is another all-encompassing communication app and is a great tool to enhance communication skills.
The developer of this app has a brother on the spectrum and created this app to meet his brother's communication needs. Ostimo uses games to facilitate communication to teach vocabulary, numbers, emotions, colors, music, transportation, animals, and more. I like how this app provides a pre-screening to access the needs of each learner. Once the screening is complete, the learner is provided with specific skills to enable communication and learning. This app is relatively new but has won some distinctive awards.
Self-Regulation
Managing emotions and behaviors is essential for every child, but it can be especially challenging for some ASD individuals. Neurodivergent kiddos can become over-stimulated or may frustrate easily due to communicating deficits, affecting their self-regulation skills. I've used these apps in my classroom over the years to support self-regulation successfully.
This app is geared towards younger users. Sesame Street is a great show that focuses on many important topics, and this app is no different. This app focuses on calming techniques. It goes through an upsetting scenario for a Sesame Street character and allows users to calm the character down. Through the game, it models strategies for students to use when upset or frustrated.
My students and I love this app. This app secretly ties in so many different activities for self-regulation. This is another app geared towards younger learners. It has various categories that include; music, videos, art, and more.
This app is more geared towards older learners. It encourages students to check in throughout the day to monitor their moods. It teaches its users effective strategies to regulate emotions. It is also customizable and keeps data regarding the person's mood. The app uses color sections as markers for different moods.
Academic
Apps shouldn't be used to replace a teacher or parent; however, apps can be used to supplement educational topics. When on the app store, you will see so many educational apps that tout about being the best educational app around. Please do your research like I do mine to ensure that the app is worth the download. The apps below are worth download.
My favorite learning interface is Starfall, especially for young learners. However, recently they have developed activities for students up to 3rd grade. The free versions of this app allow users to access letters, some games, some numbers, and some music. The paid version is worth the yearly price tag of 70 dollars (teacher's membership). It offers different memberships based on specific needs. The app encompasses so many beneficial activities for reading and math.
A preliminary screening is used to assess the needs of its users on the Homer app. It customizes the child's learning path in a fun and exciting way. This app focuses on reading, numbers, and art. It requires a paid membership.
Monster math is a fun app that promotes math fact fluency. It can easily be used in the car or while waiting for an appointment. Older kids love this app for its extraordinary characters and enriching graphics.
This app focuses on teaching sight words in a fun and entertaining way. My students love watching the videos for each word, and it helps them memorize the words and understand the meaning of the words. This app definitely beats boring word walls.
I love Boom Cards. When we were on virtual instruction, I used them daily to reach the needs of my learners. The students also love Boom Cards. The app is similar to Teachers Pay Teachers in that the consumer can create their own "decks" and sell them to eager educators or parents. Some of the "decks" are free, and most others are a few bucks. Boom Cards offer an immersive number of topics, and most "decks" are geared towards individuals on the spectrum.
This app is very beneficial for vocabulary development for ASD kiddos. I feel like this app falls under the discrete trial umbrella and can be used as a method to reach those children who are motivated by technology. The app offers so many amazing visuals to target different vocabulary. You're able to add your own pictures or record your voice, which is a cool feature. This app has a free membership and a paid membership, which offers a lot more.
Social Skills
Children on the spectrum may struggle with interpreting social cues and social situations. Unlike my earlier categories when I was browsing on the app store, there aren't many apps that focus on social skills teachings. The apps below are good apps that can help children practice for real-life social situations.
While using this app, children will watch while real people go through different social situations in common community areas. It provides a photo slideshow of children modeling appropriate behavior in different social settings. The settings include a doctor's office, barber, restaurant, grocery store, playground, and mall.
I like this app best for social skills. We all know the benefits of socials stories. This app is excellent because you can create your own virtual social story to meet your learner's needs. You're able to import your own pictures or voice, which will help the learner generalize the concept. Another great feature is that it provides different languages for its users.
Motor Skills
We can break motor skills into two different areas, fine and gross. Fine motor activities focus on the muscles of the hands, fingers, and wrists. At the same time, gross motor activities focus on the large muscles in our bodies, such as the arms, legs, and core. The apps below are great tools to help strengthen both fine and gross motor skills.
There are many different Toca-Boca apps, and my students love them all. My favorite is the Hair Salon Toca Boca app. Students will strengthen their fine motor skills by cutting, coloring, washing, and blow-drying different character's hair. Many of my students use this app as a reinforcer and don't even realize they strengthen their fine motor skills while using it.
I've used and seen the benefits of Dexteria Jr. I like this app because it focuses on fine motor and visual-motor skills. Children on the app will work on finger isolation, pinching grip strength, and tracing. The app also allows you to create profiles and track progress for different users. The price tag is also reasonable, and the Jr. version is only $3.99.
I can't forget the gross motor skills, can I? GoNoodle targets gross motor development in a fun and exciting way. My students love GoNoodle, and most of the content on the app is free. You can pay for a premium membership to receive more content, but the free version offers a lot. GoNoodle offers fun characters and different categories that will get everyone up a moving to strengthen those gross motor muscles.
Routines
Neurodivergent individuals often benefit from structure and routines. Although it's great to have tons of visuals and schedules in a classroom; people on the spectrum need to navigate the real world as independently as possible eventually and won't always have the same support provided in a special education classroom. This is where apps can help provide the structure and routine needed for an ASD individual to succeed successfully.
This app is geared towards early learners. It's enjoyable and teaches kids everyday routines through games, such as getting dressed, brushing teeth, going to bed, etc. This app can help promote the importance of routines at a young age, and the children often strive to be independent like Daniel Tiger.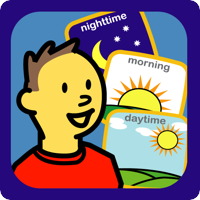 A virtual choice board is a fantastic concept, and this app makes it easy to take a choice board wherever you're going. You can import your pictures to customize your learner's needs. The app isn't only for choice boards. You can use it to make schedules, first/then boards, contingency charts, and more. This app is definitely beneficial for ASD individuals and ASD families.
This app has a variety of different engaging visual timers that my students love. Watching a timer can be stressful to some children. However, this app makes watching a timer fun and enjoyable.
Apps are here to stay. The generation of children today is often very motivated by apps and can usually navigate apps better than their adult counterparts. Why not take advantage of their interests and abilities and incorporate apps into supporting learning for children with autism?
What are your favorite learning apps? Please share in the comments below.